Are you Looking to Customize your Truck in the Fort Worth Area? Then Look no Further than Custom Autoplex!
Your truck is often the prized material possession you own. It's your faithful partner, your rock when times get tough, and your lifeline from work, to convenience, to whatever you need out of your truck. Why don't you show it the love that it deserves with a custom lift? Here at Autoplex Customs, we provide the excellent customized lift you crave, at a price you can't beat. At both our Lewisville and Hurst locations, our Autoplex custom team provides genuine lifts and accessory customizations that put your truck to the pinnacle performance standard it was built to achieve. A pronounced statement in your ride awaits those who dare to take on a custom lift.
While we mainly deal with trucks as the bulk of our clients, we are just as adept to lifting your Jeep and SUVs as well. Don't let the lack of a truck stop you from taking advantage of the lift benefits. Your Jeep or SUV stands well to take note of everything lifts have to offer.
What are the Advantages to Lifts?
Lifts provide a whole host of perks that enable your truck, Jeep, or SUV to perform at an elevated level. Lift perks include:
Better visibility: you can see much further when you're higher up. With great visibility, comes greater safety. Further, don't worry about your suspension quality, as that won't change with a lift.
Weather: with a lift, plowing through mud, snow, rain, or rocky roads is easier, especially with powerful off-road tires. Also, when you're higher off the ground, it's impossible to bottom up, an issue with some lower to the ground SUVs.
Prestige: a lift provides that intimidating yet muscle-bound look that showcases who's in charge of the road.
What Can We Do For You?
  Our expert staff has done countless lifts, as our knowledge and skill with the craft is nothing short of special. We offer everything you could need, from custom wheels, tires, vinyl wraps, custom graphics, and other exterior accessories that place you above the rest. Imagine getting your Dallas Cowboys or Houston Texan logo proudly displayed on your truck, let the Fort Worth area know where you stand with a lifted truck.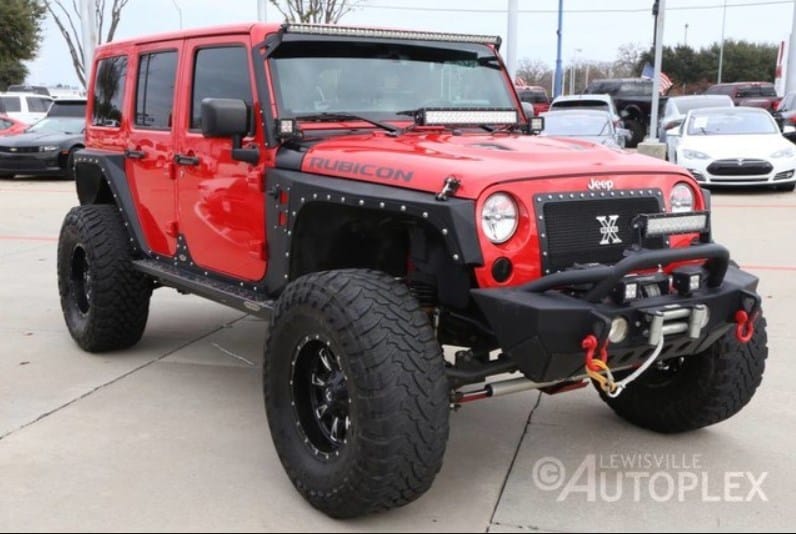 We are here to reach your goals and offer you elite customer-customer service, expert lift fixes, and fresh inventory. Let us make your lifting experience memorable at Autoplex Customs.
We have Ford Raptors, Chevrolet Silverado's, GMC Sierra's, RAM 2500's, and more in our lifted truck inventory. You can buy one pre-lifted, or we can do it for you. We are also adept at lifting your Jeep Wrangler, and Jeep Grand Cherokee.
Auto Financing in Lewsiville and Hurst, Texas
Our finance professionals make sure everything you need is taken care of when it comes to purchasing a lifted truck. We work within your budget, cater to your needs, and provide the loans or leases essential to make your lifted dreams happen.
If you're looking for a game-changing boost to your truck, Jeep, or SUV, then make sure you stop by Autoplex Customs, in our Hurst and Lewisville locations. We proudly serve the people of the Fort Worth area the lifted trucks to reach the potential they deserve. We would love to showcase our capabilities to you. Pick out the features or additions you want, and our professional technicians will handle the rest. Stop by our multiple locations or give us a call and we will schedule you promptly.